Milano
Fashion, finance, food and football (soccer) are all synonymous with the modern, sophisticated, stylish city we call Milano. The world's fashion capital, Milano is also home to the Italian stock exchange and most of the country's major corporations. Milano is huge, busy, modern, cosmopolitan and forward-looking. It is much different from the typical Italian city but thoroughly Italian.
The city's cultural life seems to revolve around its most famous edifices: the Galleria, the Duomo and its large square and the Teatro alla Scala, the world's most renowned opera house. The rest of the city is bustling through much of the day, the evening and often late into the night.
Milano's nightlife, like its restaurants, is probably the best in Italy. Most clubs are open nightly until 3 a.m., often longer on weekends. The entrance fee usually includes a free drink. One area to visit at night is the old Navigli port neighborhood, which retains the funky character typical of ports and is home to many jazz clubs and good restaurants.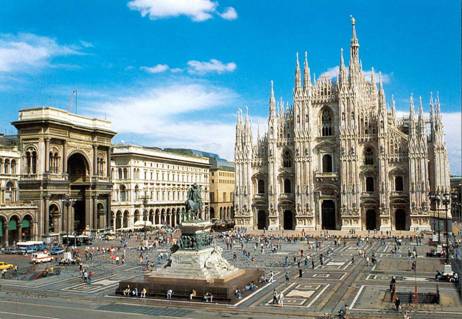 Climate
Milano's climate is continental, with damp, chilly winters and hot, humid summers. The average temperature in May is about 20 °C.
| | | May |
| --- | --- | --- |
| Average min. Temp. °C | | 11.2 |
| Average max. Temp. °C | | 21.9 |
| Monthly rainfall (mm)  | | 96.5   |
| Average hours of daylight  | | 14h 50' |
Useful Telephone Numbers
| | |
| --- | --- |
| Ambulance |  118 |
| Police |  113 |
| Carabinieri |  112 |
| Fire Department |  115 |
| Lost Property Office |  02 8845 3900 |
| Flight Arrivals and Departures |  02 7485 2200 |
| Linate Baggage Room |  02 716 659 |
| Malpensa Terminal 1 Baggage Room |   02 5858 1285 |
| Malpensa Terminal 2 Baggage Room |   02 7485 4215 |
Telephones
Country code: 0039
Public telephones are available in the city. Telephone cards can be bought at newsagents, many bars and post offices.
Electricity
Italian electrical outlets supply 220 volts AC at a frequency of 50 hertz. Italy uses a two or three-pin plug, with the German type increasingly common.
Tip
In most sit-down restaurants you may find both "il coperto" and "servizio incluso" written on the menu.  "Servizio incluso" means that service is included, meaning they have already figured in a tip for you so the total due on your final bill is all you will owe. If the service has been particularly outstanding or you have had an exceptional experience, leaving a couple Euro on the table is a lovely gesture to let the waiter know.
Time
Milano is on the Central European Time, one hour ahead of Greenwich Mean Time. It also has summer time, meaning that from April to October clocks are set forward one hour.
Opening hours
Offices usually open from 9am until 6pm, with an hour's lunch break.
Shops open from 9:30 or 10am until 8pm. In the period leading up to Christmas the majority of shops are also open on Sundays.
Safety
By western standards, Milano is a very safe city in which everyone can move around freely without fear of being molested.
Time
Italy is in the South-European time zone (summertime from March to October =+1hour), which means that Milano is one hour ahead of Greenwich Mean Time; five hours ahead of US Eastern Standard Time, and 10 hours behind Australian Eastern Standard Time.
Visas
EU nationals do not require a visa to enter Italy. Non-EU nationals need a 'residence visa' to enter Italy with a view to staying more than 90 days and may need one for a visit of a shorter duration. Applications should be made at an Italian consulate abroad well in advance of your planned departure date. Visas may be valid for a single entry only or for multiple entries within a limited period.
Milano, sites to visit
Milano is one of the major artistic centres of northern Italy. Its chief landmarks include: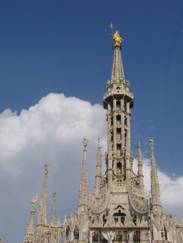 The Duomo, the world's largest collection of marble statues with the widely visible golden Madonna statue on top of the spire, la Madunina (little Madonna), the symbol of Milano.
The Duomo is the cathedral church of Milano. It is the seat of the Archbishop of Milano.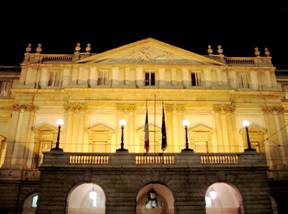 Teatro alla Scala.
Milano is also one of the most important centres in the world for Opera lirica, with its famous Teatro alla Scala (La Scala).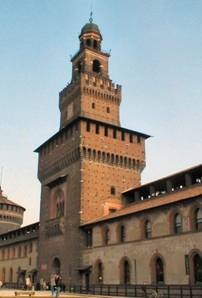 Castello Sforzesco is a castle in the city, that now houses several of the city's museum and art gallery collections.
The best known of the current civic museums is the Pinacoteca del Castello Sforzesco, with an art collection which includes Michelangelo's last sculpture, the Rondanini Pietà, Andrea Mantegna's Trivulzio Madonna and Leonardo da Vinci's Codex Trivulzianus manuscript.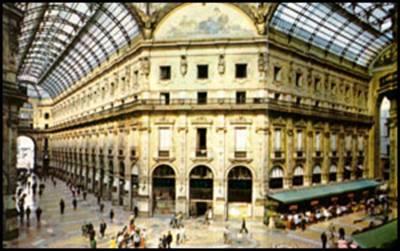 The Galleria Vittorio Emanuele II is a covered double arcade formed of two glass-vaulted arcades at right angles intersecting in an octagon; it is prominently sited on the northern side of the Piazza del Duomo and connects to the Piazza della Scala.

The Galleria is the site for many luxury goods' shops, like Gucci, Prada, Louis Vuitton.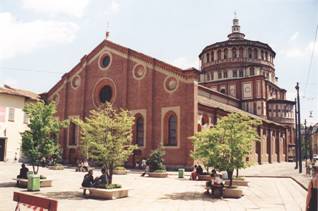 The church of Santa Maria delle Grazie, which houses one of the most famous paintings of Leonardo da Vinci, The Last Supper (L'ultima cena or Il cenacolo).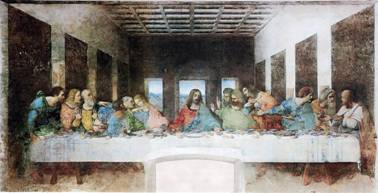 A cultural heart
Milano has a unique artistic heritage: Leonardo's Last Supper is simply the best-known of the numerous masterpieces to be seen here.
Its over 2.400 years of history have left a rich legacy: archaeological remains, Roman basilicas, early-Christian mosaics, Gothic cathedrals, Art Noeveau monuments, worldclass museums where artworks span from the sculpture of Michelangelo to paintings by Picasso.
Even visitors with little time to spend in Milano are amazed at how many must-see sites are within an easy walking distance in the compact historic centre. Stroll down its paved, narrow old streets and you will find surprises at very corner.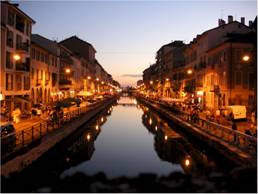 Nightlife in Milano
In Milano it is possible to find a large selection of international restaurants as well as lots of marvellous "trattorie" or "osterie" specializing in local dishes. When it comes to nightlife Milano has plenty to offer. Not even the most experienced local viveur could possibly know all the city's hot spots: clubs, pubs, cafes, bistrots, live music bars and lots more besides.
A unique shopping experience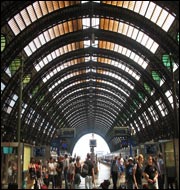 In Milano you can buy the best of everything and shop till you drop. The trendiest and most sophisticated boutiques are located in beautiful old buildings and many of the main shopping streets are within walking distance of each other.  You can venture inside top designer boutiques in the world-renowned Quadrilatero or vintage boutiques in the quaint streets around Brera. Do not forget to visit the Navigli Districts. The 3 Kilometres stretch of Corso Buoneos Aires hosts hundred of shops, to suit every pocket, and just outside the city is Europe's largest outlet village.
Sports
Football is the most popular sport in Italy and Milano is home to two worldfamous football teams: A.C. Milan and F.C. Internazionale. The former is normally referred to as "Milan" (notice the stress on the first syllable, unlike the English name of the city) and the latter as "Inter"


Considered a symbol par excellence of the city of Milan, and one of the most popular arenas in the world, the San Siro Stadium has earned the nickname "The Temple of Soccer", for its prestige and the caliber of all the events hosted on site, even apart from sports.
Useful Links
http://www.visitamilano.it/turismo_en/
http://www.lonelyplanet.com/italy/milan
http://wikitravel.org/en/Milan
http://www.timeout.com/milan/features/49/20-great-things-to-do-in-milan