HOW TO REACH DOWNTOWN MILAN
BY AIR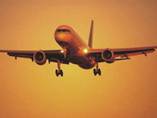 From Milano Linate Airport
Take bus No. 73 from the domestic arrivals terminal to Piazza San Babila. Piazza San Babila has connections to everywhere in Milan via red Metro line 1.

From Milano Malpensa Airport
The "MALPENSA EXPRESS" train will take you directly from the airport to the centre of Milan in about 40 minutes, arriving at Ferrovie Nord Cadorna Station or at Milano Central Station.
From Bergamo Orio al Serio Airport
Either the "AUTOSTRADALE" or "ORIO SHUTTLE" bus will take you directly from the airport to Milan Central Station in about 60 minutes.
BY TRAIN

The following train stations in the centre of Milan have underground connections:
Central Station - green Metro line 2 and yellow Metro line 3 to go anywhere in Milan.
Garibaldi Station - green Metro line 2 and blue Passante Ferroviario trains  to outlying areas.
Cadorna Station - red Metro line 1 and green Metro line 2.
Porta Genova - green Metro line 2 and westbound commuter trains.
Useful Links
MILANO METRO (Underground)

Milano has a substantial underground rail network throughout the city area. The Metro takes people  easily - and quickly - across town while avoiding traffic. Congress organisers heartily advise delegates to use the MeSystem map on the following page.
IMPORTANT: All congress registrations include a five-day "Milano Transportation Ticket" for unlimited  travel on the Metro and ATM public transport.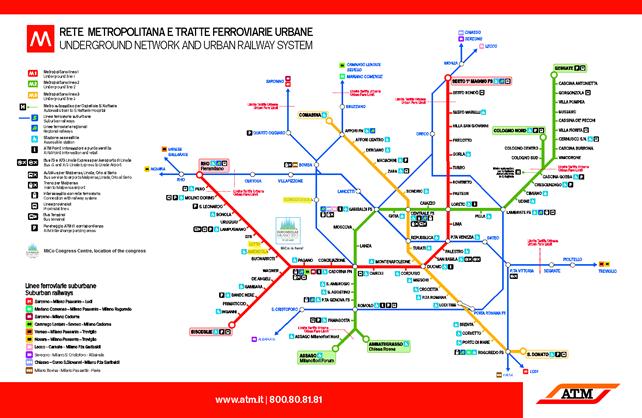 HOW TO REACH THE MiCo
MiCo is right in the centre of Milano, four kilometres from the Duomo. The congress venue can therefore be easily reached by Metro, train, bus, tram (streetcar) or car.
BY METRO
Red Line 1
"Amendola" stop (700 metres from the MiCo)
"Lotto" stop (800 metres from the MiCo).
BY TRAIN
"Passante Ferroviario"
"Domodossola" Stop (600 metres from the MiCo).
BY BUS
Bus No. 78
"Eginardo/Colleoni" Stop or "Colleoni/Gattamelata" Stop
BY TRAM
Tram No. 27
"Piazza 6 Febbraio" Stop
BY CAR
From any of the ring roads around Milan, follow the signs to "Fieramilanocity".
Plentiful automobile parking is available at the following Metro stops:
Cascina Gobba (1800 cars) - Green Line
San Donato (1800 cars) - Yellow Line
Famagosta (3000 cars) - Green Line
Bisceglie (1900 cars) - Red Line
Lampugnano (2000 cars) - Red Line
SHUTTLE SERVICE
Shuttle service to the MiCo will be provided only from hotels with no nearby Metro station (within 400 metres). This service will be provided for hotels booked through Ventana Group, the official EuroMedLab Milano 2013 accommodation agent.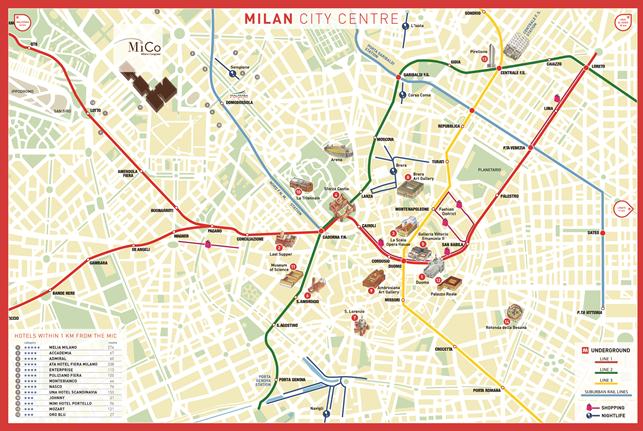 REGISTRATION DESK
The registration desk will be open during the congress as follows:
| | |
| --- | --- |
| Sunday, 19 May 2013 | 09:00 - 19:00 |
| Monday, 20 May 2013 | 08:00 - 18:00 |
| Tuesday, 21 May 2013 | 08:00 - 18:00 |
| Wednesday, 22 May 2013 | 08:00 - 18:00 |
| Thursday 23, May 2013 | 08:30 - 14:00 |
CONGRESS LANGUAGE
The congress' official language is English. Simultaneous translation from English into Italian will be available during all scientific sessions.
NAME BADGE
A name badge will be required for access to the congress area. Participants will receive a name badge when they check in at the registration desk. It must be worn at all times.
INDUSTRY EXHIBITION
Participants are encouraged to visit the large industry exhibition, which will be open as follows:
| | |
| --- | --- |
| Monday, 20 May 2013 | 10:00 - 17:30 |
| Tuesday, 21 May 2013 | 10:00 - 17:30 |
| Wednesday, 22 May 2013 | 10:00 - 17:30 |
Access to the exhibition area is free of charge for participants registered to the congress.
Exhibitors wishing to invite additional guests and clients to their booths are requested to fill names and address/affiliation in a dedicated electronic form available through valentina@milan2013.org. 
A VISITOR badge for them will be available on site free of charge at the dedicated 'Visitors desk' in the registration area during the congress. 
Any other person wishing to visit the industry exhibition is requested to pay a fee of € 25.00 to obtain the access to the exhibition area. The VISITOR badge can be purchased on-site only at the Visitors desk.
CERTIFICATE OF ATTENDANCE
A certificate of attendance will be issued to properly registered attendees, for the day(s) they actually take part in the congress. Certificates of attendance must be picked up at the registration desk just before departure.
VISAS
All foreigners intending to enter Italy must provide documentation of the reason for and duration of their stay, as well as, in certain cases, adequate financial means and lodging. Some foreigners need visas, which can be applied for at the Italian diplomatic and consular representatives in their country of residence.
Visit http://www.esteri.it/visti/index_eng.asp to:

find out whether, depending on your citizenship, country of long-term residence, and length and reasons for visiting, you will need a visa to enter Italy;
find out which documents are required to apply for your visa.
The organising secretariat is available for any assistance you may need.
CATERING SERVICE
Several areas selling food will be open to all delegates, exhibitors and visitors inside the congress centre. Each registered attendee will receive a packet lunch (included in the registration fee), which will be distributed in the poster area (Monday to Wednesday).